With the stock market declining, the Wall Street Journal decided that it would do a survey of Mets and Yankees fans.  Public Opinion Strategies contacted 650 male and female baseball fans across all five boroughs to come up with 445 pages of data.  In the coming weeks, WSJ will share its findings in its series called "The Grand Fanalysis."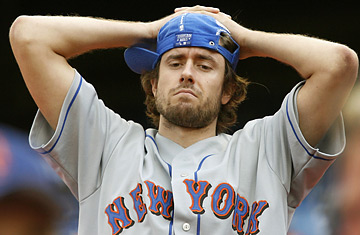 The first installment of this ground breaking study analyzes male baseball fans only.
The Yankees are more popular.  60% say they follow the Yanks versus 33% that follow the Mets.
While the Mets have more fans in the borough of Queens, the Yankees have an overwhelming edge in the Bronx.  Manhattan is a dead heat.
Yankees fans are more likely to be high income.  28% of Yankee fans earn six figures versus 24% of Mets fans.
Yankee fans are also more likely to be dry.  30% of Bombers fans don't drink alcohol versus only 16% of Mets fans.
Yankee fans are more likely to visit Starbucks.  No wonder, they have to drink something.
Mets fans, on the other hand, are more likely to be gun owners — 11% versus 6%.  Probably because Philadelphia is closer to New York than Boston is.
Yankees fans like Mac's more than Mets fans do.  I wonder if the Mets fans thought the question was about "Big Macs."
Mets fans are also more likely to be married — 51% to 41%.
Mets fans are more likely to own a pet — 47% to 42%.
Yankees fans worry more — 15% to 8%.  You would think Mets fans would worry more given all the injuries they endure.  And, if you are a Yankees fan with 27 World Series championships, why worry?
Yankees fans are more likely to be blue-collar workers — 21% to 16%.
Mets fans bet more on the games, they pay more attention to the team, and they listen to sports talk radio more than Yankees fans.  Better fans, I would suggest.
Which fans are more likely to play fantasy baseball was not reported.
Also, no word from the survey on the most important issue — which New York fans are more obnoxious.
That would probably be a tie.